Why is time recording important?
Why is time recording important in the project?
The recording of working times in a project is essential, as this is how the progress in the project is documented. This means that time recording for the current project is an important component for project control. On a management level, this is also a popular tool to ensure transparency about the work done for customers. At the same time, the management can ensure the work performance of the employees, ensure the data flow for the project controlling and therefore is an important control element for companies and management. On the other hand, time recording is not too popular with employees of the staff. This may have the following reasons:
More time and effort in working life
Work suffers due to the additional effort
Transparency when something took longer than planned and thus fear of justification
The task and activity is not really motivating and is often misunderstood
The drive for all employees to accept time recording is therefore extremely low or non-existing.
As a result, affected projects are often estimated falsely in terms of the time required or are completely forgotten.
This can become a serious long-term problem for management or executive board, because they are faced with a serious challenge to optimally plan their human resources and costs sensibly and strategically; and this is necessary to make important decisions if necessary. However, that is only be possible with an implemented time recording system. Also, companies must also be able to rely on all recorded working times of their employees without exception. Comparing both sides, not only the company but also the employees ultimately benefit from time recording: All working hours, overtime and possibly holiday and / or shift work etc. seamlessly are documented and verified.
Back to the question why time recording?
As already mentioned above, recording working time only brings added value if it is implemented in the company and is used across the board, regularly, realistically and reliably; this results in the advantages described for both company and employees:
Benefits for companies

 
Effective and economical personell planning

Fulfillment of labor law requirements

Basis for payroll accounting

Increase in profit

Optimal process planning
Benefits for members of staff

 
Reliable overview of overtime

Comfortable vacation planning

Full focus on the project

Avoiding unnecessary work

Transparent overview of the work done
Time recording makes sense – but 

for whom

?

 
The basis for this is known as hourly compensation, so the work per hour is correctly billed here. In certain industries and occupations, payment per working hour is even obligation to record working hours. Typical industries are e.g.:
Construction industry

Craft

forestry

Car workshops

Usually everywhere where project management software is used
Especially with the latter – the use of project management software –  important data for strategic planning and thus far-reaching company decisions is collected.
It's that easy to record project working hours with KLUSA!
The recording of project working times allows the creation of effort figures based on the planned effort compared with the hours actually assigned.
The values coming from the recorded working hours serve as a basis for cost center accounting and rating of the project progress in effort-related projects; also, these values can be used as experience for the planning of new projects.
The recording of overtime or under-hours is possible with flexible working time models, the presence at the workplace is tran
sparent in a calendar.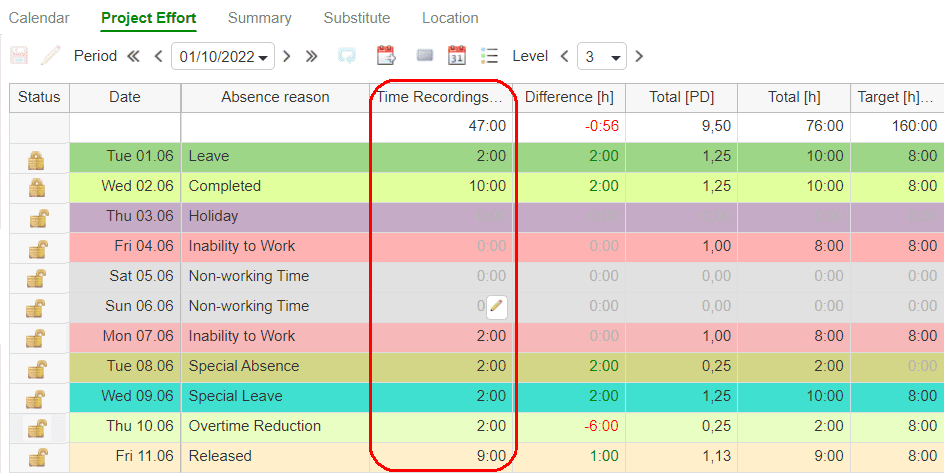 For time recording, company calendars and working time models can be used for the various employees. The time accountings of staff members can be regulated in a way that accountings can only be entered on running projects where the members are involved.
See also data sheet

Time accounting

.